Introduction
If you have ever been on a camping trip with your friends or family, you must know the importance of a tent stove.
The need to have a tent stove urges mostly in winter camping trips when you have to heat up your tent.
Any trip without comfort accessories can become more like a disaster.
Therefore, one should always keep a tent stove with him.
If you are new to the tent stoves concept, don't worry.
This article has everything to know about tent stoves.
Once you know the functioning and basics of a tent stove, you can also purchase it.
However, choosing the right tent stove is also important.
So, don't waste your time further and continue reading this blog post!
What Is A Tent Stove?
It is a wood-burning appliance that can be used for cooking and heating purposes inside your tent.
Having a tent stove can make your trip enjoyable, especially in winter.
Tent stoves use wood to produce useful heat energy.
The process occurs through the promotion of combustion and radiation of heat output.
The best way to learn about wood-burning tent stoves is to compare them with open fires.
When you make a standard campfire, you must have observed that it releases gas and heat into the atmosphere.
The biggest disadvantage of a standard campfire is that it leaves behind a large amount of unburnt material.
On the other hand, a tent stove lets you have a clean atmosphere by concentrating on heat, fuel, air, and waste.
These resources are burnt to produce more heat using the best tent stove.
The higher the percentage of fuel burned, the higher will be the efficiency of your portable wood stove.
In simple words, portable wood stoves are 10-20 times more efficient than open-air fire.
What Are the Advantages & Disadvantages Of The Wood Burning Tent Stoves?
Knowing the advantages and disadvantages of the best tent wood stove can help you make a better decision.
Some advantages & disadvantages of portable wood stoves are enlisted below:
Advantages:
A wood-burning camp stove is capable of burning bricks, sawdust, paper-based biomass fuel, and wood.
It is designed in such a way that heat is distributed evenly in the atmosphere.
You can use the best tent stoves for cooking as well as heating purposes in your camp.
You can find a camp stove to be made of several kinds of materials. It depends on the manufacturer of camp stoves and what material he chooses. Some most common materials to build portable tent stoves are metal, plastic, clay, stone, and bricks.
Disadvantages:
Even if wood-burning stoves have amazing advantages, they also possess some downsides.
The most common disadvantage is that camping stoves emit carbon monoxide into the air. If you don't have direct vents or chimney pipes installed, the fire smoke will have high concentrations of carbon dioxide.
You can also use electric stoves when you use wood as fuel. But the emission of harmful gases can cause lung damage as well as death through backpacking tent stoves. Therefore, it is advised to keep ventilation by installing vents or chimneys.
What Accessories Are Included In A Wood Burning Tent Stove?
Wood Grate
The wood grate helps to provide more oxygen by allowing more air through the bottom of the fire chamber.
If you want an efficient fire flow for your tent stove, you need to have ample airflow.
A wood grate helps to achieve that airflow. It is also known as an ash rack.
It lifts your wood off the lower area or bottom of the firebox.
Spark Arrestor
Spark arrestor helps you to prevent flammable debris from emitting from your best backpacking tent stove.
You can use it in different fireplaces, internal combustion engines, and fast fold titanium tent stoves.
You need to attach the spark arrestor to the top of your stainless steel camping stove.
In simple words, it is built to catch sparks that may otherwise cause hazards.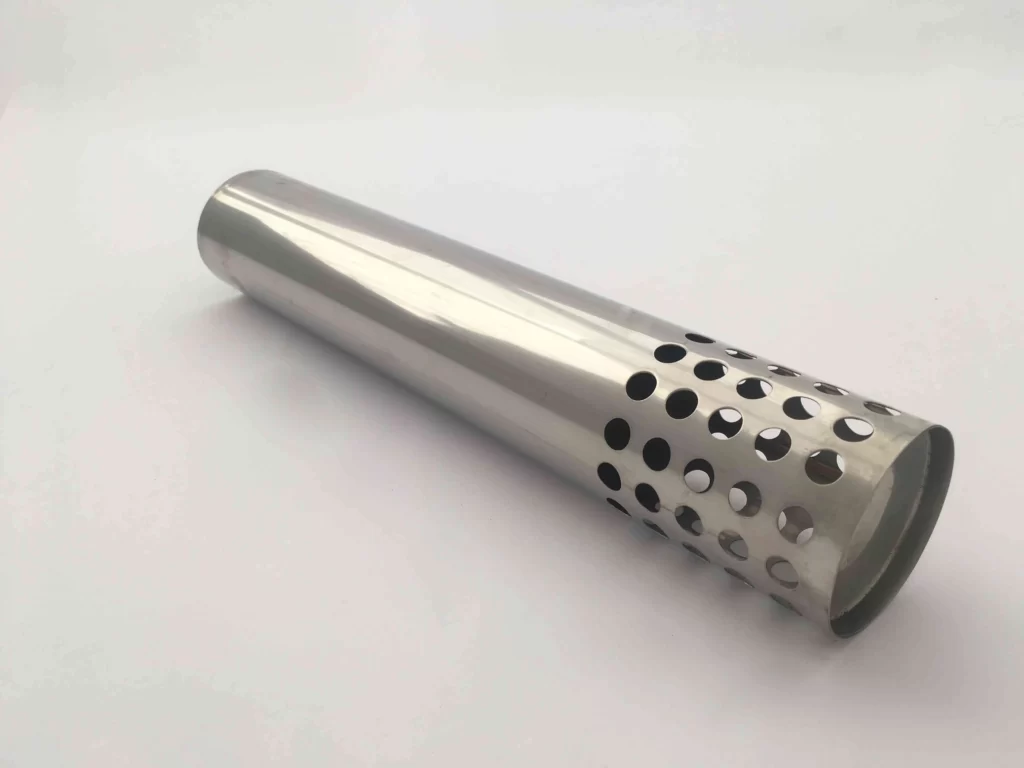 Pipe Damper
A pipe damper is more like a draft in your door.
It aims to control the size of fire as well as ventilation.
You can operate it easily while it is located in the pipe of your wall tent stoves.
In simple words, it controls the burning temperature of your best military tent stove.
Moreover, it allows the dissipation of heat output in the targeted area.
Ash Shelf
Ash shelf helps you to clean the left out burnt material.
You should note that every tent heater may not have an ash shelf with it.
So, when you are purchasing a tent stove, make sure your manufacturer adds an ash shelf to the product.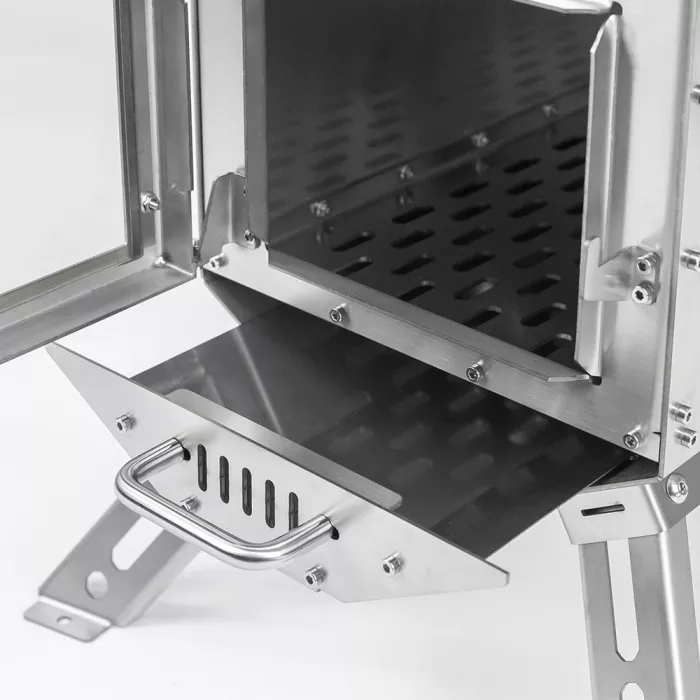 Hot Water Tank
A water tank helps you have access to hot water in your winter camper.
However, a water tank is not a necessary accessory for most stoves.
If you are on a trip with two to three friends then having a kettle is enough to get hot water.
You should note that this water cannot be used for drinking purposes.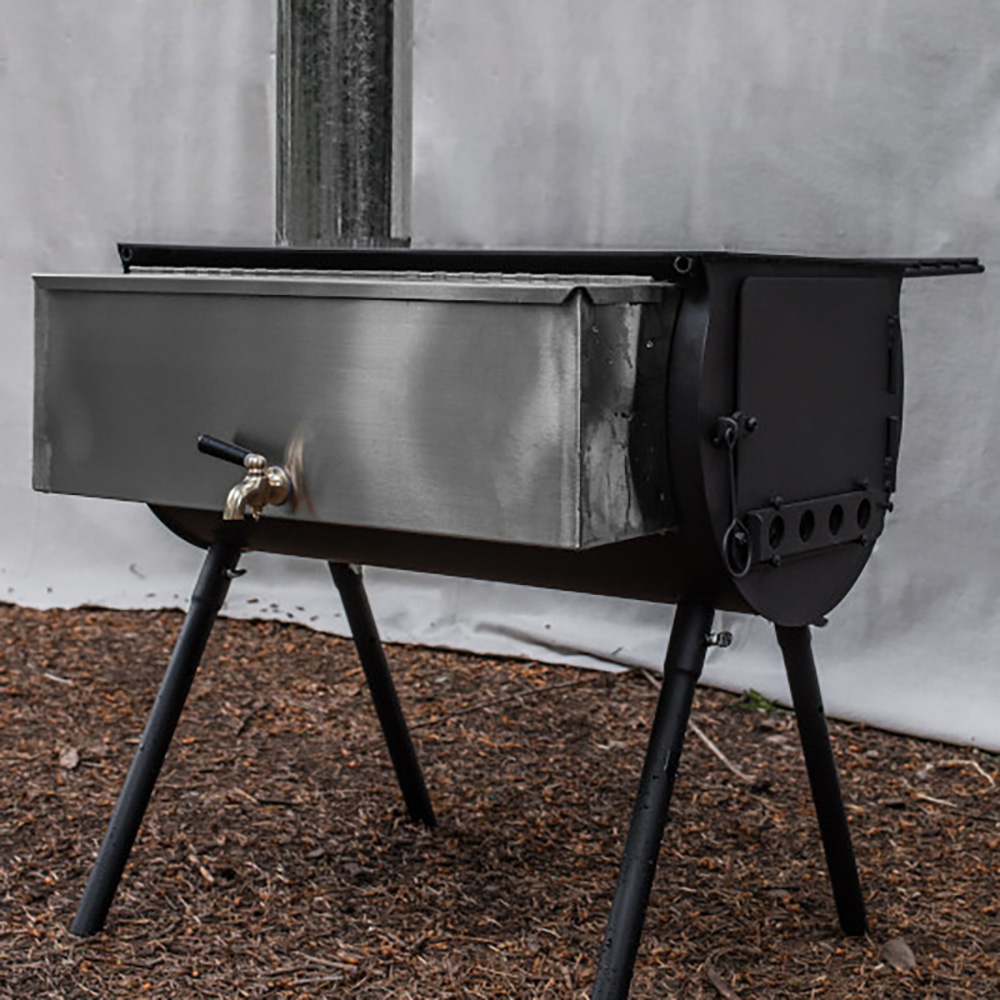 Why Should You Use A Tent Wood Stove For Camping?
There are multiple reasons to choose wood tent stoves for your hunting trip or larger tents.
You can easily burn fire inside your burning wood cylinder stoves to cook and warm the tent.
The best thing about it is that you can easily survive cold weather using tent wood stoves.
So, you can say that it is the main feature of hot tenting. Some reasons to use a tent stove are:
You can easily carry wood burning tent stove on the trip since it is compact and lightweight.
You don't need to buy gas or propane stoves when you own a wood-burning tent stove.
You can also use wood burning tent stove in your tent camping to dry your clothes, making them more comfortable to wear.
How To Select The Right Tent Wood Stoves?
Tent camping has become popular in recent years.
It feels really good to go out with your friends and enjoy tenting.
However, selecting the right tent stoves can decide your level of comfort and stay warm during such trips.
When selecting the right wood stove for yourself, you have to consider several possible factors.
These factors can be pricing, features, quality, specification, and manufacturing of your wood stoves.
So you can easily choose a tent stove to stay warm by analyzing the following factors:
What Is Your Budget?
Knowing your budget is the first and most important thing to do before purchasing anything.
You have to know whether you can afford a good piece of wood-burning tent stove or not.
When thinking about budget and saving your money, you should always focus on one thing.
That one thing corresponds to the fact that you should always try to avoid cheaper products just for the sake of saving a few dollars.
It is because cheap things always get damaged before completing their lifespan.
While high-quality things will last longer.
However, if you have decided to invest in a good wood-burning tent stove, you should at least consider some further factors.
It will save you from purchasing the wrong wood stove.
Continue reading!
Do You Want To Cook Using Wood Stoves?
Now, this is a really interesting question to ask yourself when you are thinking to purchase a wood stove.
It is important to know what kind of tasks you will carry out using wood stoves.
For example, there might be different sizes and options available in the market.
You should choose a larger tent wood stove if you want to cook through it.
Otherwise, the smallest stoves are enough to do the heating jobs for you.
What Size Tent Are You Camping In?
You also need to consider the size of the tent just like you need to consider the wood stove's size.
You should not try to use extra-sized tent wood stoves if there is not enough space in your camp.
But you should also know that having a lightweight and small tent stove can be your right decision since no one wants to carry loads with them.
A stainless steel stove is a nice option to carry with you. It has 20cm*45cm*25cm dimensions.
At the same time, a titanium wood stove with the same dimensions can be a larger option.
Make sure that the stove is suitable to use in your tent.
It can be dangerous if catches fire by mistake.
Take a fire extinguisher for your safety along the tent stoves.
What Kind Of Material do You Need For Tent Stoves?
Tent stoves most commonly come in three materials.
Tent stoves made with different materials, carry different features with them.
These materials are:
Stainless steel
Lightweight
Foldable
Anti-rust
Has a glass window to monitor the fire.
Portable
Easy to carry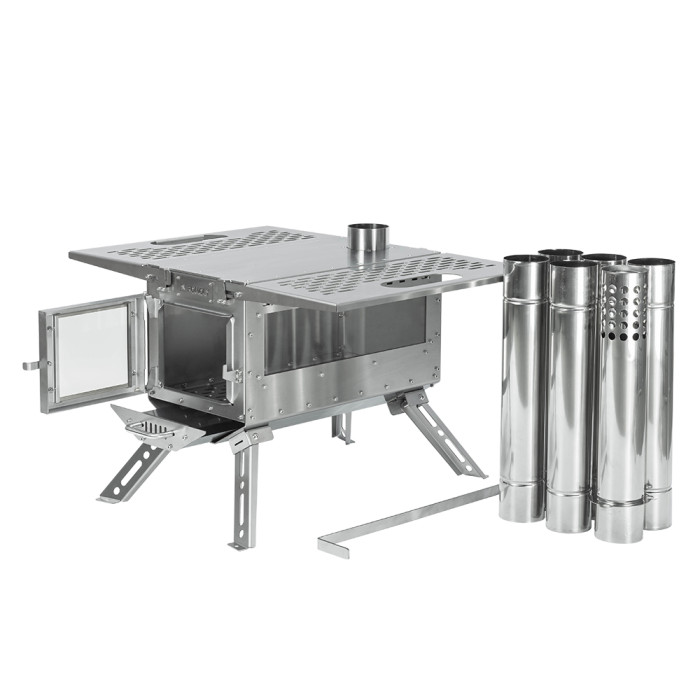 Titanium
Lesser weight as compared to other options (40% less than stainless steel)
You can transport it easily.
It can deform when burning for a long time.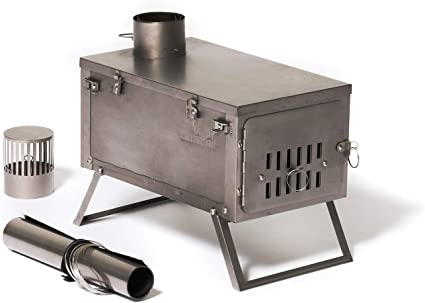 Carbon Steel
Heavy and stable
Good heat conduction
Gives warmth even with a small fire
Doesn't deform at high temperatures.
Hard to carry due to heavyweight
You need a car to move it.
What Design Do You Need For Your Tent Stoves?
Tent wood stove comes in different designs.
Just like different features with different materials of tent stoves, each design differs from the others.
Some most common designs of tent stoves available in the market are:
Cylinder stoves
Efficient heat gathering
Longer holding for heat
Warp-free
Flat cooking surface
Unfoldable
Glass window stoves
Easy to monitor
Warms the tend faster due to glass windows
Heavy and easy to break
Box Tent Wood Stove
Most common tent stove
Lighter
Easier to pick
Can deform easily
Foldable Vs. Unfoldable Tent Stoves
Foldable stoves are easier to carry with you when you are going on a long trip.
They are ultra-packable and lightweight tent wood stoves.
It could be difficult to pack if it gets deformed due to burning.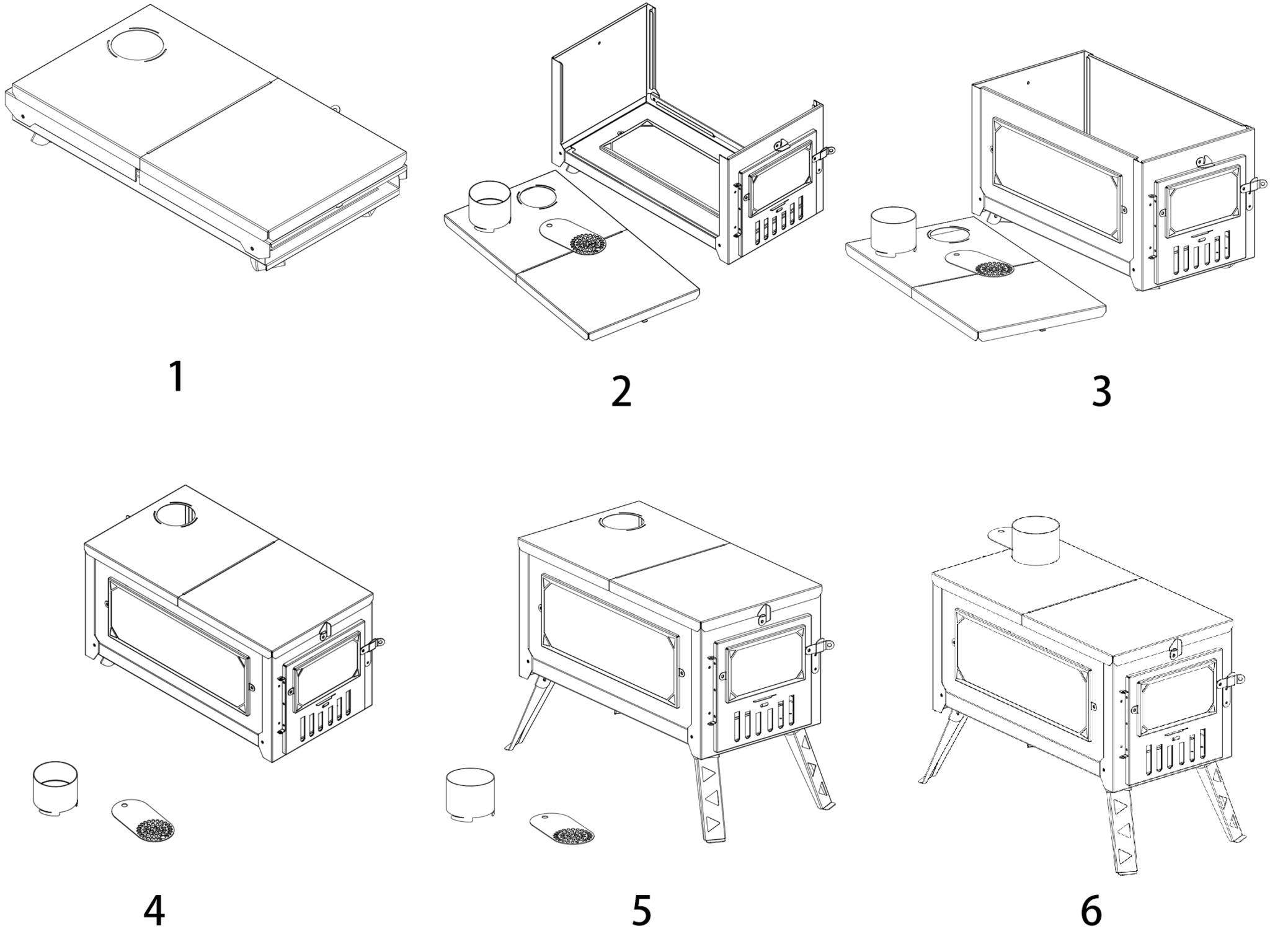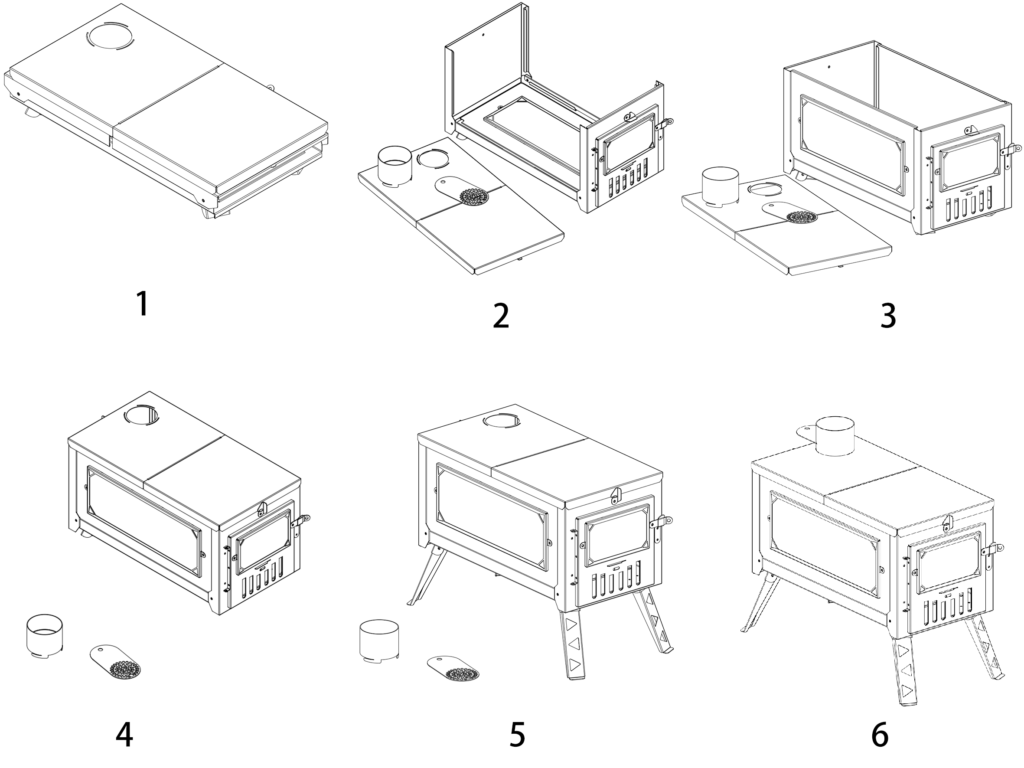 You can also choose unfoldable ones but those are not easy to carry with you.
What Safety Precautions Should Be Adopted To Use A Camping Wood Stove?
Safety precautions are always necessary no matter what design or size you choose for your tent stoves.
Some important safety precautions are given below:
Don't sleep near a tent stove in your camp.
Don't keep combustible things near the camping wood stove since they can catch fire.
Make sure that there is enough distance between tent doors, other combustible things, and your tent stove.
Don't start the fire with flammable fluids.
You should put the fire out if you are planning to sleep. Don't leave the stove burning overnight.
Don't burn trash in your wood-burning stove.
Don't burn wet wood inside the tent.
Follow the manufacturer's instructions to use the tent.
Why Should I Choose OutdoorSAC For Portable Wood Burning Stove?
There are so many reasons to explain why OutdoorSAC can be your best partner to purchase a wood fire stove.
Some most important reasons are enlisted below:
Leading manufacturers of tent stoves in China.
OutdoorSAC owns a large factory area of 2000m2 with expert and skilled manufacturers.
We have 10+ years of experience.
We have been exporting their products to more than 30 countries.
We own 1000+ happy customers.
We have hired 100+ skilled employees.
Advanced test lab facilities.
Three-step quality control process.
The products at OutdoorSAC have passed several quality certifications such as LFGB, FDA, and CE.
Conclusion
Tent stoves can give you warmth and comfort when you come into your tent after hanging out with your friends on a trip.
However, choosing the right manufacturer or supplier for your tent stove is also important.
If you are looking to find a suitable manufacturer for your tent stoves, Contact Us now.
We are always here to help you.